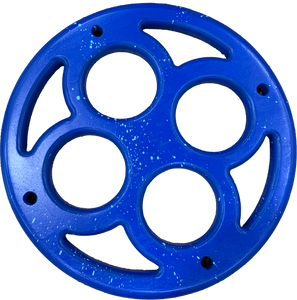 The Dyslexia Awareness Hold is a perfect hold for all skill levels.  At a 19" Diameter, it's the perfect size to be hung in all directions.  Hang it vertically for fun variations on transfers with a small windows on the edge or use the larger circles in the middle.   Hang it horizontally for a saucer style grab or try to lache to it by grabbing the inner circles for a more advanced move.
For every hold sold, we will donate $15 to a Dyslexia focused not-for-profit. 
The Dyslexia symbol was created to empower the Dyslexic community.  Formed with the letters p q b d the symbol is inspired by dyslexics and how they process information differently in ways that provide advantages in reasoning and understanding relationships.  Visit www.pqdb.org to learn more about Dyslexia.