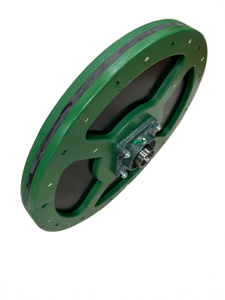 The Fly Wheel is a Challenging Obstacle for intermediate skill level athletes.. The fly wheel is ~22" in Diameter and can be mounted on 1.9" or 1.66" bars with metal bearings or bushings.  Each Flywheel comes with four 1.5" non-jugged cliffhangers that can be mounted with bolts and embedded t-nuts.  Additionally, the fly wheel can be used without the cliffhanger attachments for a 3/4" ledge.
For added versatility, when used with bearings, mount the flywheel horizontally for a smaller version of our spinning disk!
Looking for something really similar?  Give us a shout and we can help make those modifications a reality for you.